We are passionate about making our clients' websites work for them – to get them doing as much as possible and make life easier… so naturally, we're very excited that they can now do even more.  Progressive Web Apps (PWA) can do almost anything that a native app on your mobile phone can do.
What are Progressive Web Apps?
Really, they're just apps that work within the browser – they should provide a full "app-like" user experience without the hassle of installing them.  So instead of having a separate responsive website and app, you build the app functionality into the website itself. This has lots of benefits:
PWAs take up much less storage space on your phone
You can offer features like push notifications, location services and offline support, without requiring users to download anything
You can save money on development – no separate apps for different platforms needed
All information can be updated in one place
Everything in PWAs is linkable and discoverable which makes them great for SEO
PWAs aren't all that new, although they haven't always been widely supported – now Apple is on board, meaning that iPhone users will be able to get all the benefits of PWA sites.  All the major browsers are investing in support too – so it seems they're here to stay.
Google has defined Progressive Web Apps as "A new way to deliver amazing user experiences on the web" and has thoroughly documented them.  We'd be willing to wager that this could mean that PWAs are ranked above non-PWA sites in future.
Will Progressive Web Apps replace native apps?
Yes and no! The big companies will continue to run apps successfully: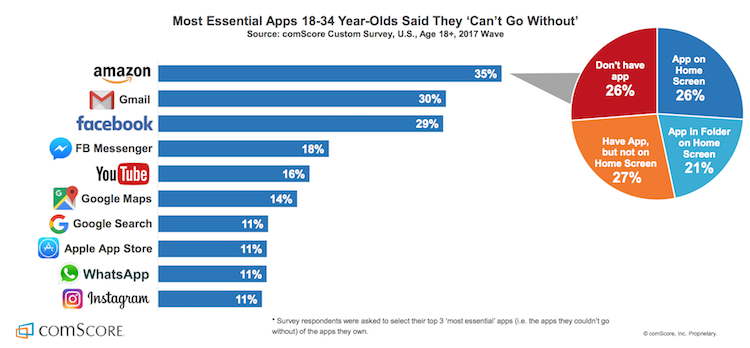 But smaller companies need an alternative route to finding a place on peoples phones – it was always tough to get exposure on the App Stores and it's tougher now – when was the last time you looked for a new (non-game) app for your phone?
So, are PWAs the next big thing in web? Yes, we think they are… watch this space – we'll be sharing lots more information soon!